Pardon the poor picture on this. I took this over a year ago to be used in a post I never ended up writing. I attempted to clean it up but no dice. So, in order to actually see who's on this card, here it is properly scanned and everything from COMC: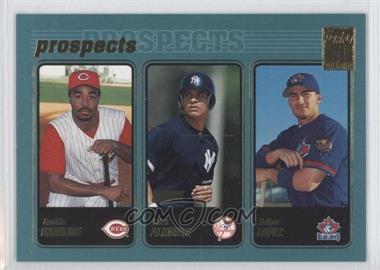 Much better.
I don't know how I acquired this card ... maybe a repack? Maybe a trade? Not sure. Anyway, I thought I'd pull out something I've done in the past with multi-player cards and see how each guy on this card fared in their career.
Gookie Dawkins - At one time the Reds middle infield consisted of guys named Gookie and Pokey, and that's honestly about all can be said about Gookie Dawkins in MLB. In 52 games over parts of three seasons with the Reds (1999, 2000, 2002), he hit a low .167/.238/.208 with exactly zero homers and only 3 RBIs. In 2003, he resurfaced with Kansas City appearing in only 3 games. After his 2003 cameo, he stayed in the minors with various organizations until 2011.
Erick Almonte - Almonte's stay in the majors was nearly as brief as Gookie Dawkins. Almonte only appeared in 55 games total in MLB, mostly for the Yankees (2001, 2003) but also a quick 16-game cup of coffee with the Brewers in 2011. Seems he'd bounced around with a lot of different organizations in the minors before having one last hurrah with the Brewers. At the very least, his MLB career stats show he had two homers with 14 RBIs and a .233 average.
Felipe Lopez - Lopez was a solid middle infielder who debuted with the Blue Jays in 2001 and had a good run with the Reds from 2003-2006. His best season was was 2005 where is made the All-Star team for the only time and finished with a .291 average, 23 homers, and 85 RBIs in 148 games. After the Reds shipped him to the Nationals in July 2006, in what turned out to be a pretty controversial trade as the Reds claimed "damaged goods" on one of the pitchers they got in return, he bounced around to seven different teams from 2008 to 2011. As recently as 2015 though, he made a comeback of sorts with Carolina in the Puerto Rican Winter League.
Of these three, I'd definitely say that Lopez had the best career by far. Do you remember any of these players?