A week or so ago, P-Town Tom of the Eamus Catuli blog (formerly Waiting Til Next Year) suggested a fresh topic for a blog bat-around, that topic being the origin of your player collections. I know I'm a bit late to the party here but as I was doing some sorting (as shown by the picture above), I came across a few cards of some players I collect. So here are five random picks from my player collection list and the reasons I collect them.
Barry Larkin
I'm a bit too young to remember Dave Concepcion but when I was growing up, Barry Larkin was the first shortstop I remember playing for the Reds. By the time I was old enough to finally get memories of baseball, Concepcion had retired and the shortstop spot was taken over by Larkin, who would hold it down until 2003. After Larkin retired, the Reds went through a revolving door of shortstops but now seem to have settled in with Zack Cozart. When I got back into collecting, Larkin was the first guy who's cards I went after.
Dennis Eckersley
The only non-Red on this list, I've had an affinity for Eckersley cards going back to my original collection. The first card that drew me into him was his 1991 Fleer which featured the craziest picture of any pitcher I've ever seen. Since then, I've been collecting his cards, all of which seem to have some sort of crazy picture of him in mid-delivery.
Sean Casey
Casey was acquired on the eve of the 1998 season for Dave Burba and my, how that trade worked out for the Reds. In eight seasons of manning first base for the Reds, he hit .305/.371/.463 and amassed over 1000 games. Not long after Casey was traded away after the 2005 season, Joey Votto came along and has continued the chain of long serving first basemen.
Chris Sabo
As I mentioned before, Barry Larkin was the first shortstop I remember playing for the Reds, so to go along with that Chris Sabo was the first third baseman I remember hanging around the hot corner for the Reds. "Spuds" played the majority of his career for the Reds, with only the 1994 and 1995 seasons being the ones where he was away from Cincinnati. He returned for a final season in 1996 for 54 games before retiring. I've got two cards of him not in a Reds uniform (Orioles and White Sox) and I'm always looking for more non-Reds cards of him.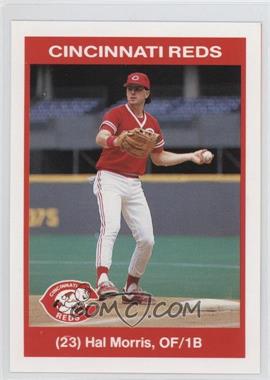 Hal Morris
I didn't have any Hal Morris cards in the box I was sorting so I took this image from COMC. Morris was always someone I found interesting, mainly because of his wacky batting stances but he could hit like crazy. Like most of the other Reds on this list, he's the first person I remember playing at a certain position, first base in this particular case. I haven't really found many cards of his post 1994 for my collection so those are the ones I'm definitely trying to find currently.