This must be the year for retirements. First there was Shane Doan of the Arizona (nee Phoenix) Coyotes and now Reds fan favorite Bronson Arroyo has officially hung up the spikes after 16 seasons and a valiant comeback attempt earlier this year.
1995 Topps Traded and Rookies #47T
Arroyo was drafted by Pittsburgh in the 3rd round of the 1995 Amateur Draft out of Hernando High School in Brooksville, FL. He made his major league debut during the 2000 season and started 12 of the 20 games he appeared in during that season. His years with the Pirates were very uneventful, going 9-14 with a 5.44 ERA in 53 games over three seasons.
Just before spring training in 2003, the Red Sox claimed him off waivers. His season that year wasn't much but he did get to pitch in the ALCS that year out of the bullpen. The 2004 season though is where he really started to blossom with Boston, going 10-9 with a 4.03 ERA in 29 starts. While his playoff performance wasn't great that year, he did win his only World Series ring as the Red Sox beat the Cardinals to break the curse.
He had another stellar campaign in 2005 going 14-10 with a 4.51 ERA over 32 starts. His lone appearance in the ALDS against Chicago that year did him in though as he came in relief in Game 1 an he promptly gave up 2 hits, 2 walks, and one homer over 1 inning for an overall ERA of 18.00 in a game where the Red Sox lost 14-2.
2007 Topps #30
Towards the end of spring training in 2006, the Reds pulled off a coup, acquiring Arroyo from the Red Sox for slugger Wily Mo Pena. That proved to be one of the most lopsided trades ever for Boston as Pena never really panned out but Arroyo would go on to be a mainstay in the Reds rotation through the 2014 season. In his first season with the Reds, he made his only All-Star team and finished 23rd in MVP voting. He threw a career high 240.2 innings over 35 starts and compiled a 14-11 record with a 3.29 ERA.
2007 Ultra #43
Over the next 7 seasons, he never missed a start for the Reds and never landed on the DL once. He also threw over 200 innings every season except for one (2011) where he threw 199 innings and made over 30 start every season from 2006-2014. In 2010, he won a Gold Glove and finished 12th in Cy Young voting for a Reds team that surprised everyone and made the playoffs. For as surprising and memorable as that 2010 club was, they were unceremoniously bounced from the playoffs by the Phillies via a three game sweep in the NLDS.
2009 Topps #513
The Reds would return to the playoffs in 2012 in season where the steamrolled the NL Central and won 96 games. That season Arroyo went 12-10 with a 3.74 ERA over 32 starts. Then the playoffs started and despite being only one win away from their first NLCS since 1995, the Giants rattled off three straight wins and surprising knocked the Reds out in the first round. That was the downfall of the Reds as they could only muster a wild card berth the next season, which would be Arroyo's last in Cincinnati.
2014 Topps - Red Foil #78
He signed as a free agent with Arizona that offseason and only managed 14 starts before landing on the DL with arm trouble which ultimately led to Tommy John surgery. While injured, the D'Backs shipped him off to the Braves in June of 2015. He never made an appearance for the Braves and just over a month later, was sent to the Dodgers as part of a massive three team 13-player trade, which included future Reds teammate Jose Peraza. At the end of the season, he was granted free agency by the Dodgers.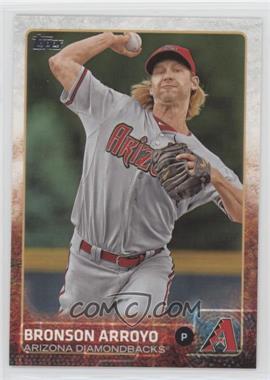 2015 Topps #596
Image from COMC.com
In 2016, he signed with the Nationals reuniting himself with former Reds skipper Dusty Baker as part of a comeback attempt but had rotator cuff problems resulting in him not getting a roster spot. He was released by Washington after the season. On Valentine's Day this year he signed a minor league deal with the Reds with an invite to spring training.
2017 Topps Heritage #598
Image from TradingcardDB.com
Surprisingly, he made the team and made his first start on April 8th of this year in a 10-4 loss against the Cardinals in a 4 inning effort. It was obvious from the start that he wasn't the Arroyo of old as his fastball had lost a lot of zip and he was forced to rely mainly on breaking pitches and finesse. His last start before arm troubles resurfaced was June 18th, Father's Day, at home against LA where he threw three innings giving up 7 hits, 5 earned runs, and one homer over 16 batters faced. His final stats for the season were 3-6 with a 7.35 ERA. His final career stats came out to be 148-137 record with 4.28 ERA, 1,571 career Ks, 2,4335.2 IP, one World Series ring, and one All-Star appearance.
And so ends the career of one of my favorite players and someone I'm glad to have on my player collection list. I've got a decent start on my Arroyo collection but I'm always on the lookout for more.
Congrats on a great career Bronson. Hope to see you again soon in a few years for your induction into the Reds Hall of Fame.